Matthew Morrison has been a strong supporter of Special Olympics and a leader in the Truck Ride event for many years. His involvement began in 2005 while working at Schneider National Carriers Inc, where one of his fellow drivers was taking part in the "Worlds Largest Truck Convoy for Special Olympics". His colleague was able to pick six drivers to go with him, and when Matt agreed to get involved, he was immediately hooked on the event.
Over the years Matt has watched many athletes train, set goals and achieve those goals. Some even competing in the World Games, which he noted is an incredible accomplishment. Year after year Matt loves how excited the athletes are for the Truck Ride event. However, he also highlights that the drivers are equally, if not more excited to see the athletes, and catch up on their achievements and challenges throughout the previous year. With the advent of social media it has become even easier to watch the athletes succeed on and off the field.
For us veteran drivers of the Truck Ride it truly is all about the athletes. The ability to support our local athletes and know our money raised stays directly in the community is phenomenal.

Matthew Morrison
Matt recounts some of his favourite memories from the Truck Ride events have been the ability to see his own family get involved. When he met his wife Sarah, he brought her into the fold for the Truck Ride and she loved it for all the same reasons the drivers do. He even brought his mom in to volunteer a few years ago, and she too was hooked. After his daughter Dania was born, the family started collecting cans and bottles throughout the year to donate to the Truck Ride. Matthew and his family noted that watching athletes grow is magical, and the bond they create with the drivers is unexplainable.
Dania truly is a Truck Ride girl and has the shirt to prove it! She loves seeing the trucks and interacting with the athletes. Even our old dog used to roam the halls of the event center. Everyone knew him by name and knew who he belonged too. After he passed and our daughter was born she took up his role as the Truck Ride mascot. Now, everyone knows her by name and she remembers just about everyone throughout the year.

Matthew Morrison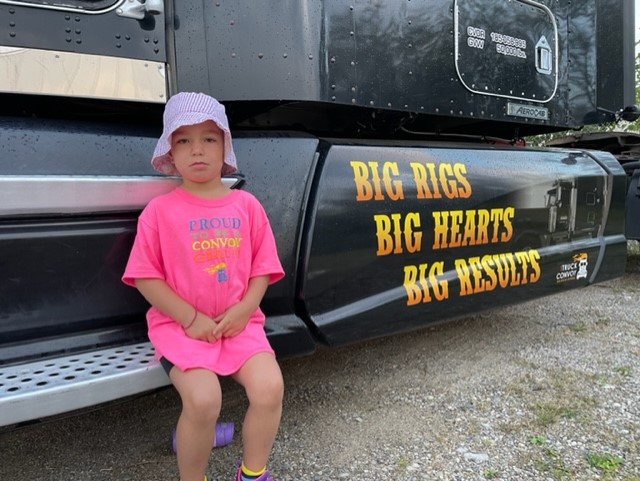 Thank you Matt, Sarah and Dania for your ongoing support of Special Olympics Ontario and all of the effort and time you put into Truck Ride events. This year's Special Olympics Ontario Truck Ride is set to take place on September 17th, 2022. Please visit the link here to Donate, Register or become a Sponsor for the event.